The unique and patented design of the Fog Bandit range provides incredible versatility in adapting itself to any 24/7 security needs, be it for out of hours burglary or daytime robbery situations.
The versatility of the larger Fog Bandit 240DB's and smaller 320 range has all risk applications covered. There is no compromise in the speed or density of fog produced by the smaller 320 units compared to the larger 240DB units, they just activate the fog for a shorter amount of time for protecting smaller areas.
From small corner shops to large high value storage warehouses, garden sheds to luxury boutiques, the Fog Bandit range has the versatility, proven performance, and reliability, to match the application.
Horizontal Fog Activation;
The horizontal delivery of fog provides rapid protection of shops, offices and homes of all shapes and sizes, rapidly directing intruders at the point of entry. In daytime robbery situations, within seconds of being activated, the Fog Bandit creates a fog shield to remove eye contact, eliminating the threat and drives intruders out of the premises. This option is widely used in luxury boutiques, jewellers and retail shops generally.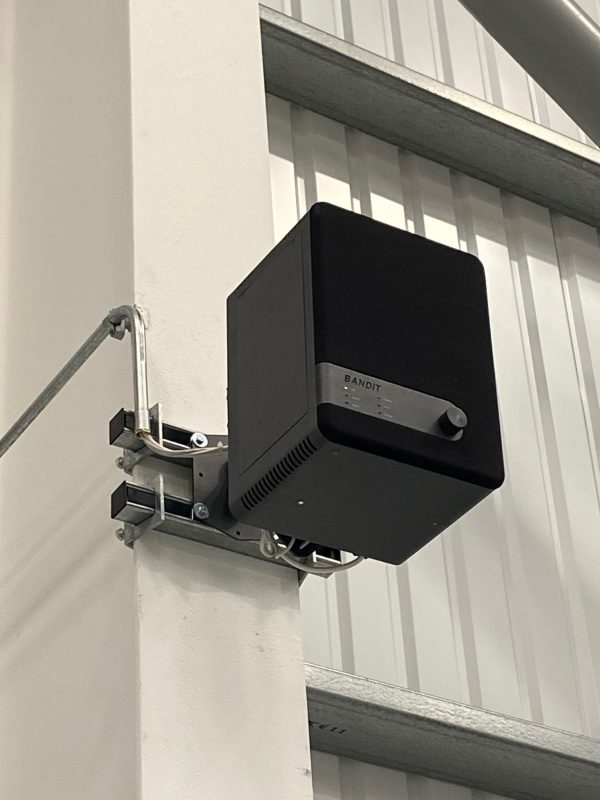 Vertical Fog Activation;
The ability to deliver fog on a vertical plain ensures protection of large buildings with high ceilings on either a full-fill fog delivery or to directly protect vulnerable entry points and high value assets. This application is proven in storage warehouses. Equally the vertical system can be used to specifically protect the likes of cigarette gantries in fuel forecourt shops or above cashier counters.
On display or discrete?
Fog Bandit systems deliver high density fog in seconds and can be installed in full view for maximum deterrent or covertly, matching the aesthetics of exclusive interior shop designs. Fog Bandit remains the system of choice for thousands of UK wholesalers, retailers, financial institutions and homeowners and are strongly endorsed as a proven deterrent of crime by leading insurance companies.