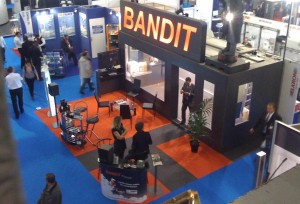 Bandit Fogging Systems were first designed & developed by the Belgium based manufacturer, Bandit n.v./s.a., in 1992.  The vast majority of systems sold since then are still in service today.  Bandit UK Ltd was established in October 2004 to market the systems to the UK and Irish marketplaces.
The Bandit's patented design and unprecedented track record of performance & reliability, has earned it a reputation that has attracted end users from all spectrums of the business world.  From blue chip companies to corner stores, the FOG BANDIT is widely used to protect people and assets against the threats of robbery and burglary across Financial Institutions, CViT and Cash Processing, Retail, Warehouse Distribution, Leisure, and Public Sectors.
Doing business with Bandit is a pleasure.  We provide prompt response to enquiries with:
FREE, NO OBLIGATION demonstrations and surveys.
FREE advice and guidance to ensure optimum performance & protection from your Bandit system.
Installations and ongoing Service & Maintenance activities conducted by friendly, experienced engineers, fully Trained, Approved and Certified as per EU Regulations EN50131-8.
Each Bandit with a full 5 year warranty backed with 24/7 technical support.
All our installations and services are covered by Public & Product Liability Insurance including Efficacy Insurance for all hours of business.
We challenge you to find better service and a  more reliable product than the Bandit and invite any questions you may have via our enquiries page.