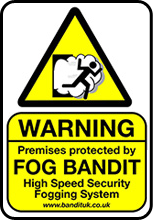 As arrests have been made this week in the aftermath of the robbery Kent Police have requested that images and CCTV from the incident be withheld at this time
UPDATE JUNE 2014 – Three men have been jailed for a total of more than 18 years for terrifying masked raids involving betting shops, a rural post office and a jewellers.
Latest details: http://www.kentonline.co.uk/malling/news/robbery-trio-jailed-18998/
Cuttings of Ramsgate, a third generation family jewellers and pawnbrokers were targeted by three raiders on Monday 16th December, late in the afternoon.  The armed raiders forced their way through the front entrance door and targeted the jewellery cabinets and window display. Back in August 2011, the shop was installed with a Fog Bandit robbery deterrent system to protect the staff and the stock.  Almost immediately, the vigilant staff initiated the high speed security Fog Bandit which in just two seconds projected a 6 metre blanket of visually impenetrable yet harmless fog across the shop, screening the targeted display cabinets and forcing the raiders to turn and flee the shop.
Due to prompt reaction of the staff and the speed and density of the Fog Bandit security fog, the raiders fled the shop empty handed.
At 6.25pm the same afternoon, Kent Police stopped a vehicle travelling on the A249 in the Maidstone area and arrested two men and two women in connection with the incident. All four are currently being held in custody.
Jamie Kirkland, owner of Cuttings, explains;
"The Fog Bandit worked brilliantly! Nobody was hurt, we did not suffer any loss and the shop is back open this morning for Christmas trading. Without the Fog Bandit the outcome could have been very different.  We feel assured by having the Fog Bandit installed and strongly suggest that other retail Jewellers do the same."
Neil Chrismas, Sales and Marketing Director for Bandit UK added:
"The Bandit UK Team applauds the staff during this incident for acting promptly in initiating the Fog Bandit and forcing the raiders to leave their shop empty handed.  In the UK alone, over the last 3 years the Fog Bandit has successful foiled 25 robberies at similar businesses without any failures.  This is a further example of the clear deterrent message to the criminal fraternity that targeting Jewellers and Pawnbrokers with a Fog Bandit system installed is a fruitless exercise and heightens the likelihood of being caught".