FOG BANDIT 320 at IFSEC 2017 – IFSEC International, taking place at London Excel from 20th to 22nd June 2017 is Europe's leading Security event.
The Bandit UK Team are delighted to be bringing their live demonstration booth (Stand G1715) with the full range of Fog Bandit security fogging solutions including the new Bandit 320 to IFSEC 2017 so visitors can experience the high-speed fog for themselves!
For the past 4 years, the inventor and manufacturer of the outstandingly successful Fog Bandit 240DB has been developing a new, more compact and immensely more versatile product designed for smaller environments, both commercial and domestic, yet not compromising on the performance and reliability of the proven Fog Bandit 240. The new Fog Bandit 320 has now been launched and has many new unique and ground breaking design & technical features covered by numerous international Patents.
COMPACT & VERSATILE DESIGN – The new Fog Bandit 320 can be mounted in any orientation desired, whether wall, ceiling or low level mounting the 320 will operate effectively in any of these positions. With a weight of only 7kg (max 9kg with cartridges installed) and independent control box for all the electronics, ease of installation could not be simpler. Furthermore, the new compact & self-change fog cartridges are disposable and eliminate the need and associated cost for the attendance of an engineer to replace.
Optional shell & facia colours are available to special order.
PERFORMANCE – The key objective of paramount importance in the design and development of the 320 was not to compromise on performance whilst dramatically reducing the size for the fog generator. With the creation of a totally new and patented heat exchanger, the 320 can rapidly protect smaller rooms with a fog ejection reaction time of just 0.25 of a second from when an activation signal is received and fog fully ejected within no greater than 4 seconds.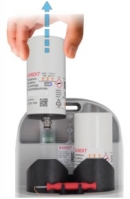 COMPLETE ROOM FILL – Due to the extremely large volume of fog being produced so quickly, the Fog Bandit 320 has a multi-holed ejection nozzle to ensure rapid coverage of the entire area being protected.
Fog Bandit is a proven 24/7 deterrent and defence mechanism against both overnight burglaries and daytime robberies with a record 36 UK robberies successfully foiled and ZERO failures in the last 5 years alone. Fog Bandit's reliable and proven approach is trusted by 1000's of UK organisations, their staff and business stakeholders on a daily basis.