Since its launch the Fog Bandit 320 unique and ground-breaking design & technical features covered by numerous international Patents has provided hugely successful and is trusted by 1000's of business premises, their staff and business stakeholders on a daily basis. Building on the outstandingly successful Fog Bandit 240DB the more compact and versatile Fog Bandit 320 product designed for smaller environments, both commercial and domestic, has added versatility without compromising on the performance and reliability of the larger 240DB.
PERFORMANCE
The key objective of paramount importance in the design and development of the 320 was not to compromise on performance whilst dramatically reducing the size for the fog generator. Smaller does not need to mean less powerful performance and the speed and density of the security fog produced by the Fog Bandit 320 range maintains Fog Bandit's position as world leader in high speed security fog performance.
COMPACT & VERSATILE DESIGN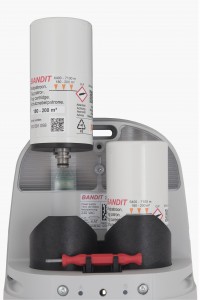 The Fog Bandit 320 is able to be mounted in any orientation desired, whether wall, ceiling or low-level mounting, the 320 will operate effectively in any of these positions. With a low weight of only 7kg (max 9kg with cartridges installed) and independent control box for all the electronics, ease of installation could not be simpler. Furthermore, the new compact & self-change fog cartridges are disposable and eliminate the need and associated cost for the attendance of an engineer to replace. Optional shell and fascia colours are available to complement interior designs.
CONCEALED OPTIONS NOW AVAILABLE!
When aesthetic considerations are important in a premises and the normal method of surface mounting the 320 on view may not be appropriate, a concealed variant can be provided for a hidden installation within a cabinet, or behind an internal wall, or above a suspended ceiling.