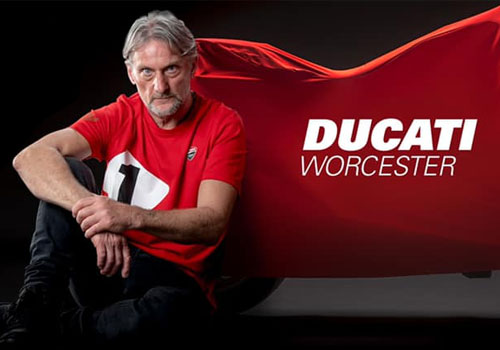 Protected by Fog Bandit, world famous Italian motorcycle-manufacturer Ducati, are ready to lift the covers on their newest Ducati Store at Worcester. Worcester is the latest store offering the best deals, backed up by expert Ducati factory trained technicians.
Since 2016, Ducati have adopted Fog Bandit as part of their standard security deterrent specification to protect their bikes, accessories and other business assets across their UK Stores.
In the event of an attack on the premises, the alarm integrated Fog Bandit releases 28 cubic metres per second of visually impenetrable, yet harmless security fog, so that in 10 seconds or less the premises and stock are removed from view and intruders are forced to flee without reward. "What cannot be seen cannot be stolen!"
By having Fog Bandit installed in their stores Ducati communicate a clear deterrent message to the criminal fraternity that targeting their stores is a fruitless exercise.
Chris Booth, Managing Director, UK Ducati Stores added;
"The Fog Bandit has proven to be a reliable and sound security product investment. The discrete units with powerful performance match our retail stores perfectly."
Neil Chrismas, Sales and Marketing Director for Bandit UK added:
"We are very proud to have the Ducati brand as a Fog Bandit client to add to our already established spectrum of assets protected across the Financial Institutions, Cash and Valuables in Transit and Cash Processing, Retail, Warehouse Distribution, Leisure, and Public Sectors".