What's the most important – Security or Ownership?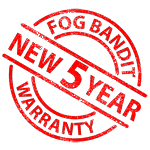 Get the security you need now and pay as it protects per day per location.  Many customers are choosing to use our all inclusive fixed term rental, giving you all the Fog Bandit benefits for as little as £2.50 per day.  Fog Bandit Rental Scheme gives you an easy way to invest in the very best security system on the market backed up by our 5 Year Warranty on all Fog Bandit equipment.
If you could have a security guard for 10p per hour would you say YES?
Bandit is a 24/7 system…
Our managed service alternative can include your Fog Bandit unit and any other security equipment you might choose for an affordable fixed rental.
Why pay all the VAT up front?
Customer feedback:
"I was able to have the Fog Bandit installed and our staff and shop protected without needing the capital expenditure"
"Once I saw the Fog Bandit demonstrated it was a simple and easy decision"
"It's hard not to be able to cost justify £2.50 per day – it's just cost me that amount for a coffee!"